What an amazing series of events this week!
On Monday, our Board met in our Organizational Meeting to approve Bylaws and complete many other tasks related to setting up a non-profit, so THANKS to the Board.
On Wednesday, we did our Agency Assessment at pilot agency UnBoundRVA in the morning (THANKS Elizabeth!), and THEN got to see them receive the award for Nonprofit Partner at the RVA Companies To Watch event that same evening.  Few dry eyes left in the house after their video aired!  Congratulations again to UnBoundRVA Sarah Mullens and Richard Luck on this awesome achievement!  See our Twitter feed for images of that event!
On Thursday, CEO Tom Anderson and a few other IT4Causes leaders joined The Daily Planet for the Grand Opening of the new Southside Community Health Center! It was great to be part of the $1.6M project that created a new access point for primary and behavioral health for anyone, regardless of insurance or income. The facility also contains 20 beds of Medical Respite, a program for people being discharged from the hospital without a home to recuperate from a hospital stay while hopefully finding better housing.
.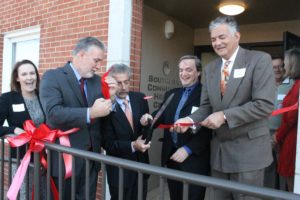 From left to right in this image are Elizabeth Roark (Daily Planet Board and IT4Causes TAG), Neal Graham (Virginia Community Healthcare Association CEO), Peter Prizzio (Daily Planet CEO), Tom Anderson (Daily Planet Board Chair and IT4Causes CEO), and George Welch (Daily Planet Board and IT4Causes Board Vice Chair).
And final preparations are under way for the Getting To Know IT4Causes event this coming Monday at Impact Makers. If you don't have your ticket yet, you might want to jump on that now as we have over 100 tickets given out so far and we are heading towards a sellout!